Afag Bashirgyzy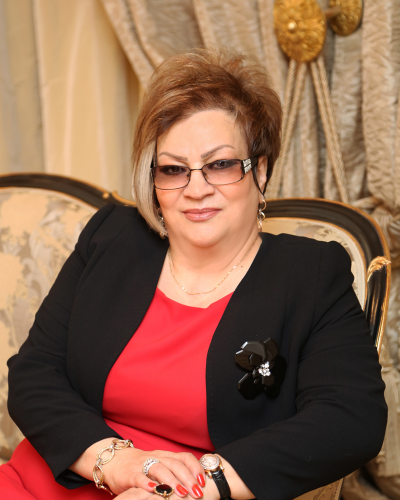 Afag Safarova who is the daughter of the greatest master of Azerbaijan theatre Bashir Safarov was born in Baku in 1955. In the years of 1974-1979 studied at Azerbaijan State University of Culture and Art. She began her carrier at Lenkeran State Drama Theater in 1973. Beginning from her first roles enthusiastic, hardworking and talented young actress won the deep sympathy of audience. In 1975 she started working at Sumgait State Drama Theater. Mainly at comic roles she got matured, also playing leading roles at classical and contemporary works she gained popularity. According to her high artistic merit she played a noble performance at "The Engagement Wing" as "Söylü" character. The actress had magnificent importance in the movie of same performance to make people to admire this film. She was invited to Azerbaijan State Musical Comedy Theater at 1989. Over the years she has been able to play main roles and create interesting characters. She acted as "Saman" at "Have bachelors" based on work of S. Alasgarov and I. Malikzade, "Sanam" at "If Not That One, Then This One" by U. Hajibayli, "Minnat" at "Husband and Wife" written by E. Sabitoglu, "Nisə" at "Banker Finance" written by T. Valiyeva, "Səltənət" at "The Love Game" by C. Guliyev and G.Rasulov, "Maleyke" at "The Lost Bride' by C. Guliyev, she played in the character of " Masma" at " Aunt Masma is my Uncle" by R. Mustafayev and C.Mammadov, "Gamza Khanim" at "There is a Maniac in the City" written by S.Farajov and A.Nesin, " Zalkha" at " Mother of Seven Prisoner" written by C. Guliyev and A.Amirli, " Guldeste" at "Whereas I am old, I am worth to thousand young" written by F. Sudjaddinov and T. Valiyeva, " Khanuma" at "Khanum" performance by V. Dolidze and A. Saqarelli, "Alchemist" at " Kimyager" by S.Karimli and A. Ol.
She also starred in the several films such as: "The Man in Green Eyeglasses", "The Engagement Ring", "The Necrolog", 'Evləri Köndələn Yar". Living her most wisdom times of creativity ages the actress is still in the search of resourcefulness. It has been many years that Afag Safarova teaches acting in Azerbaijan state of Culture and Art University. She was nominated as 'Honored Actress" in 1989, "People's Artist" in 1993, both in 1993 and 2003 as
"Golden Darvish" and "Shohrat Order" in 2003.
The actress is also rewarded with Presidential Pension.