The Uzbek Theatre will present the play "Ah, these old and strange men!" on the stage of the Musical Theatre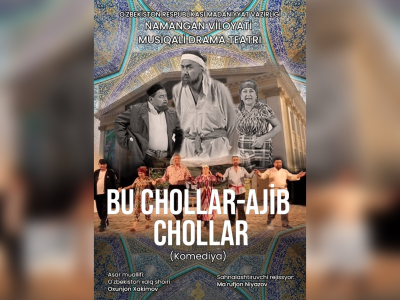 In recent years, the cooperation memorandums signed between the Azerbaijan State Academic Musical Theatre and various theaters of Uzbekistan contribute to the development of mutual cultural relations. Within the framework of joint projects, exchange visits of theater collectives, as well as exchanges of directors and actors are carried out.
Following the successful tours of the creative teams of the Katagurgan City Drama Theater of Uzbekistan and the Mugimi State Academic Theaters of Uzbekistan last season, this tradition is being continued.
This time, the guest of the Academic Musical Theater will be Uzbekistan's Namangan State Musical Drama Theater. They will perform the comedy "Ah, these old men - strange old men!" on October 2 and 3rd at 19:00.
The author of the play, based on family-life issues in the plot, is the People's Poet of Uzbekistan, Okhunjon Hakimov, and it is staged and directed by Marufjon Niyazov.
Tickets for the performance, which will be presented in Uzbek, can be obtained from all centralized box offices of the city, "ASAN Service" centers, as well as from the website "İticket.az". Collective orders are also accepted.