Man of Man at Azerbaijani State Academic Musical Theatre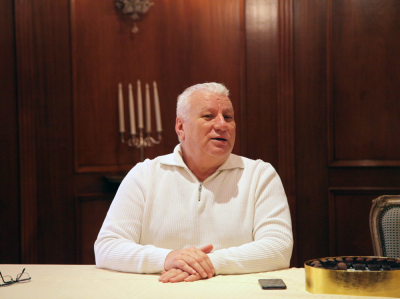 "Adamın adamı" (Man of Man), a play by the Azerbaijani writer Anar, (music composed by People's Artist Vasif Adigozalov) has begun rehearsals at the Azerbaijani State Academic Musical Theatre. During the first rehearsal, the theatre's director, Honored Artist of Azerbaijan Aligismat Lalayev, held a creative exchange of ideas with the team about the production. Lalayev noticed the popularity of the play with the same name that was previously included in the theatre's repertoire during the period of the late director Faig Zohrabov's leadership (between 2005-2011) and shared his memories about the play. He wished everyone success in the new production, which is being directed by Honored Artist of Azerbaijan Asgar Asgarov."
The play will feature the participation of People's Artists Fatma Mahmudova and Parviz Mammadrzayev, Honored Artists Alakbar Aliyev, Akbar Alizadeh, Chingiz Ahmadov, Shovgi Huseynov, Almaz Alakperova, Igrar Salamov, as well as actors Nijat Ali, Ulviyya Aliyeva, Turkal Tarigpema, Huseyn and Gultaj Alili, Shaban Jafarov, Guljahan Salamova, Elshan Ismayilov, Ruslan Mursalov, Ibrahim Alizadeh, Hidayat Aliyev, Nigar Karayeva, and Jabrayil Jabrayilov.
Renowned actress and Honored Artist Dilara Aliyeva, who started collaborating with the Music Theater this season, will also be among the main performers of "Adamın adamı". The founder and director of the stage work is Honored Art Worker Fakhraddin Atayev, the founder painter is Honored Painter Nabat Samadova, the founder ballet master is Honored Artist Nigar Shahmuradova, the founder choreographer is Honored Artist Vagif Mastanov, the conductor is Samad Suleymanli, the director is Elmaddin Dadashov, the concert master is Fidan Aliyeva, and the director's assistant is Tamilla Aslanova.