The beloved actress of the Musical Theater celebrated her anniversary on stage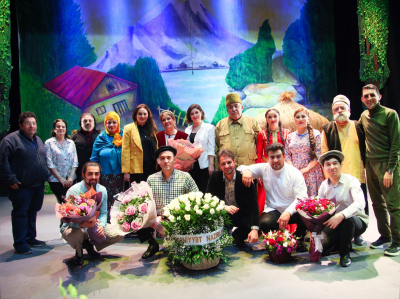 The performance of the musical comedy "Five Manat Bride" (S. Rustamov, M.S. Ordubadi) at the Azerbaijan State Academic Musical Theater was presented on the occasion of the 60th anniversary of Guljahan Salamova, a well-known actress of the theater, winner of the Presidential Award.

Before the performance, the theater's deputy director, Doctor of Philosophy in Art Studies, Vafa Muhajirova spoke about the actress's performance on stage.
This time, Guljahan khanum, who was "Naz-naz" inthis play, welcomed her fans with the image of Salbi (Naznaz's mother).
In addition to Guljahan Salamova, honored artists Nadir Khasiyev, Igrar Salamov, actors Moyla Mirzaliyev, Samadzade Khasiyev, Mehriban Zaliyeva, Ibrahim Alizade, Elnara Nagdaliyeva, Nigar Garayeva and others participated in the play. "Five Manat Bride" directed by Honored Artist Asgar Asgarov. They shared the same scene.
It should be noted that Guljahan Salamova graduated from the "Musical comedy actor" department of the Azerbaijan State University of Culture and Arts in 1988.
From that year, she started her creative activity as a soloist-vocalist at the Azerbaijan State Academic Musical Theater. During her work in the theater, she skillfully coped with countless characters.
In 2013, she was awarded the "Honored Culture Worker" badge of the Ministry of Culture. She was a presidential awardee.