A new project from Musical Theater nn the 150th anniversary of our Professional National Theater... "Parade of Premieres" Performances in three different languages!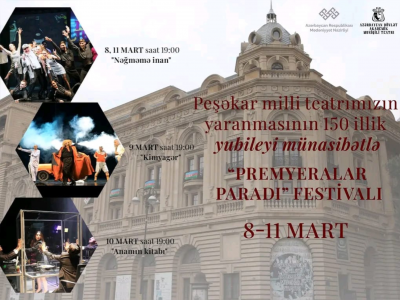 Azerbaijan State Academic Musical Theater will present three new performances within the "Parade of Premieres" project on the 150th anniversary of the establishment of our professional national theater.
These performances, which will be presented within the framework of the project, will be shown on March 8 and 11: "Trust to my song" (in Russian), on the 9th "Alchemist" (in Azerbaijani), and on the 10th "My mother's book" (in English). The performances will be held in the evening starts at 19:00.
It should be noted that the stage director of the play "Believe in my song" based on the music of People's Artist and outstanding composer Polad Bulbuloglu is the chief director of the theater Javid Imamverdiyev. The stage director is the Honored Art Worker Fakhraddin Atayev, the stage designer is Vusal Rahim, the stage director is the ballet master of the Honored Artist Nigar Shahmuradova, and the choirmaster is the Honored Artist Vagif It is Mastanov.
The play "The Alchemist" is based on the work "The Story of Molla Ibrahimkhalil the Alchemist" by the famous playwright Mirza Fatali Akhundzade. The music of the play belongs to People's Artist, composer Sayavush Karimi. The second director of this play, staged by the Honored Art Worker Bahram Osmanov, is Elmaddin Dadashov, the production designer is Sevinj Hasanova, the choirmaster is the Honored Artist Vagif Mastanov, and the director's assistant is Tamilla Aslanova.
The play "My Mother's Book" in the Musical Theater, a project of the Ministry of Culture, is based on Jalil Mammadguluzade's "My Mother's Book", one of the classic examples of Azerbaijani drama. The production director of the stage work is Irada Gozalova, the translator is Tarlan Rasulov, the production designer is Vusal Rahim, the video engineer is Murad Hasanov, and the structure of the dances belongs to People's Artist Parviz Mammadrzayev and director Zaur Aliyev.
Academic Musical Theater invites all theater lovers to a theater holiday.
Tickets can be purchased from all centralized ticket offices of the city, "ASAN service" centers, as well as from "Iticket.az" website.