The play "Like a breath" will be performed at the Academic Musical Theater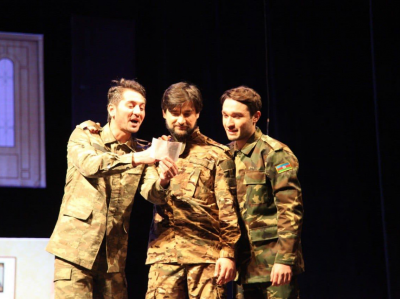 In connection with the 33rd anniversary of the January 20 tragedy, today at 7:00 p.m. the Azerbaijan State Academic Musical Theater will present the performance «Like a breath>.
The play, which is dedicated to our martyrs and veterans, our mothers who became the main face of our victory, whom are source of our pride, was created based on the play and structure of the director Samir Gulamov.
Honored Figure of Arts, Ph.D. Aligismat Lalayev is the idea author and artistic director of the play that is based on the music of USSR People's Artist Fikrat Amirov.
The director and music composer of the stage play is the Honored Art Worker Fakhraddin Atayev; Vusal Rahim is the stage designer; Leyla Aghayeva is the ballet master; the concertmaster is Kamil Hasanov; Sevinj Mammadova and Amrah Dadashov are the director's assistants.
At the same time, the performance uses the piano music of Kamil Hasanov, a young pianist who received a Presidential scholarship.
In the show will take part: Honored artist Nahida Orujova, actors Gulnara Abdullayeva, Guljahan Salamova, Amrah Dadashov, Nazrin Ismayilzade, Ibrahim Alizade, Samadzade Khasiyev, Hidayat Aliyev, Ofelia Novruzgyzy, Ali Karimov, and Murad Aliyev.
The performance "Like a breath" will be shown again on February 26 at 19:00 in connection with the anniversary of the Khojaly Genocide.
Tickets can be purchased from all theater-concert box offices of the city, "ASAN service" centers, as well as from "Iticket.az" website